Music 7-31-01
I added Linkin Park - Crawling to the Music Section.
This site is best viewed with the following settings:
1024 X 768 Screen Resolution or higher.
56K Modem or Faster.
Microsoft Internet Explorer 5.5 or higher. Download here.


Check out the Video Section. 7-26-01

I have added 2 more videos to the Video Section.
Sk8house.net partners up with ag-systems 2-9-01

Sk8house.net has now partnered up with ag-systems. Please click here or on the button or banner to visit ag-systems.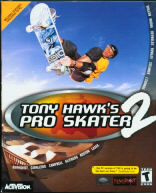 THPS2



If you liked the first Tony Hawk then you will love this one. One of my favorite features of the game is the new levels that it has. Not only does it have new levels but it contains a few from the original Tony Hawk. If you have a decent video adapter then you can enjoy the breathtaking graphics that it has. The only thing it lacks is multiplayer gameplay over the Internet, but if you have a LAN then you can play against anyone else.